Personal Health
Prevention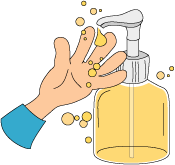 What can I do to prevent getting sick?
Get adequate rest.
Inadequate sleep can weaken your immune system, leaving you more susceptible to infections. But a well-rested body has more energy and increased ability to defend against harmful bacteria. A good night's rest can average between 6 and 9 hours of sleep.
Eat healthy foods.
Eating regular meals that have a variety of wholesome foods will help your body stay strong, healthy and able to fight harmful bacteria.
Wash your hands.
Your hands pick up dirt and bacteria from many surfaces. Wash and dry your hands carefully, remembering to clean between the fingers and around the nails to remove bacteria.
Clean your teeth and gums.
Poor oral hygiene can lead to serious bacterial infections. Floss daily to remove harmful bacteria that collect between your teeth. Brush at least twice a day to remove other bacteria on your gums and teeth.